Four important things happened yesterday, or were announced:
Michael Ford announced that Washtenaw County has been removed from the proposed southeast Michigan RTA;
Ann Arbor appeared on the front page of USA Today as having the fourth-fasted growing transit ridership in the country;
Ann Arbor city council approved a revised agreement for county-wide transit, sending the plan further along the runway;
And AA council also approved moving forward with a study for a new rail station.
I'll take a break from my blog series on Germany to look at these important items. Details follow...
Washtenaw out of RTA?
At last night's u196 Board meeting, Michael Ford, AATA's CEO, announced that Washtenaw County had been removed from consideration as part of southeast Michigan's Regional Transportation Authority (RTA). I have not been able to verify this on the Michigan Senate's Web site, so I assume it was an understanding reached at the Mackinac Policy Conference last week.
Jesse Bernstein, AATA's Board Chair, expressed relief. Though just five days earlier, in an interview with
Ann Arbor.com
(linked below), he had stated a willingness to work with Detroit area transit, his relief was expressed by saying, "We'll be able to retain our birthright!" He explained that AATA has always been able to receive funds directly from the Federal government, but under proposed RTA legislation the RTA Board would be the sole entity in the region to apply for and receive such funds. The RTA Board would then apportion moneys to the various transit agencies, after retaining a percentage for its own operations.
In addition, there's the sweat Washtenaw County has put in to expanding transit county-wide. It's possible that the RTA Board would scrap those plans and set us back at square one; by remaining in control of its own destiny, Washtenaw County can avoid being sucked into the huge problems faced by the Detroit and its three surrounding counties.
Fine. But what about the region as a whole? "If you're not part of the solution, you're part of the problem". Does that apply to our region? A fascinating series of discussions on regional cooperation took place at the Mackinac conference, reported in a number of news articles. More on that in another blog post. Still, the fact remains that if southeast Michigan can't meld it's public transportation into a unified whole, the region is crippled. That includes not only the immediate Detroit area, but also Washtenaw, Livingston, and Monroe counties. More - as I said - in another blog post!
Ann Arbor: the fourth-fastest growing transit ridership
In 2010, AATA saw a slight decrease in ridership compared with 2009. But apparently we were just saving up for a big push in 2011. According to the
USA Today
article (linked below), Ann Arbor's 1.7 million riders, a 9% increase, represents the fourth largest increase in the country. We were edged out by Charlotte, North Carolina, at 10%; hit hard by Fort Myers, Florida, at 17%; and clobbered by Indianapolis, which jumped 20%. But we trumped Boston's growth of 8% (though they had 99.2 million riders compared to our 1.7 million - aren't percentages wonderful?) and left Dayton, Ithaca, Tampa, Olympia, and San Diego in the dust.
Congratulations, AATA!
And that includes everyone: Board, staff, and the bold front-line - our motor coach operators!
Ann Arbor moves forward
Two of Ann Arbor City Council's decisions last night moved the region's environmental sustainability forward: approval and amendment of the "Four Party Agreement", and approval of fund-matching for further work on the new Ann Arbor rail station.
The "Four Parties" involved in the agreement are AATA, the City of Ann Arbor, the City of Ypsilanti, and the County of Washtenaw. (These four are involved in the transition because AATA is supported by dedicated funding from Ann Arbor and Ypsilanti, and will be incorporated as a Washtenaw County entity; so approval of the governing bodies of all four is necessary to make the transition.)
Ann Arbor's Council needed to approve revisions made by the Ypsilanti City Council, which removed a 1% service fee from the moneys both Ypsi and AA raise for the new agency. According to the
Ann Arbor Chronicle
(linked below), that added up to a far higher amount for Ann Arbor, so they amended the language to retain their 1%. Ypsi will consider that amendment this evening, and very likely approve it.
Though the amendment was approved by all Council members, there were three dissenters (Anglin, Kunselman, and Lumm) on the vote for the Four Party Agreement as a whole. It's good to know that 73% of Ann Arbor's Council understand the importance of both transit and regional cooperation - at least at the county-wide level.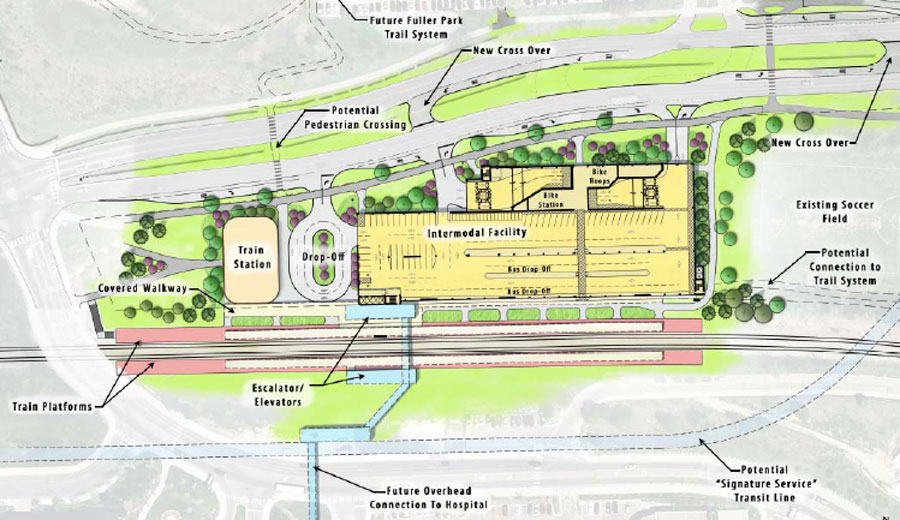 Ann Arbor Station as originally planned, with large University parking structure at right, which will no longer be included in that form. (From the Ann Arbor Chronicle)
The rail station study was approved by an even larger margin: 82%. This despite the high level of opposition from parks supporters, including the Sierra Club's Huron Valley Chapter (of which I'm a member...). Not all environmental choices offer clear black-and-white (or is it black-and-green?) options. The issue here is whether a designated park area can or should be converted into a facility for green transportation. I'd like to briefly recap the issues here, from my perspective, of course...
Is it OK to take this particular land out of "park" designation? Yes, because:

It was traded for another area that remains in its natural state to this day. When the Veterans Hospital was expanding a number of years ago, they intended to use land adjacent to their facility (about a mile east) as a parking lot. This land was wooded, and reportedly included several trees more than a hundred years old. In order to preserve that woodland, Ann Arbor City Council swapped parkland designation with the land now in question, and made a deal with the VA that allowed it to build a parking structure instead, saving the trees. (I have a copy of the Memorandum of Understanding.)
Result: the land in question has been used legitimately as a parking lot since then, as its parkland designation was transferred.
There is a great deal of beautiful parkland in active use in the immediate vicinity. In addition to the city's Fuller Park, directly across the road, there is Island Park, across the Huron from Fuller Park; and the University of Michigan's huge (123 acre) Nichols Arboretum, immediately to the east. There is no danger that the environs of the station will become any kind or "urban jungle".

Are there no better alternative locations for the station? No:

The current Amtrak station is the busiest in Michigan, in terms of passenger boardings. It's a small, dingy building in the shadow of the Broadway Bridge, unable to expand due to land constrains. It's also an awkward distance from any significant centers of employment or interest. I've walked from it to campus many times, and it's not a walk I'd recommend to anyone not it good physical shape. I'm by no in "great" shape - just "good enough" to make it up the steep hill with my backpack and rolling suitcase, as long as I can puff and pant all I need to.
Several studies have been made to see if the station could expand in its current location. Each of them came up with a firm "no". (Clark Charnetzky is the expert on this, having taken an active part in more than one such study on behalf of the Michigan Association of Railroad Passengers and the disabled community.)
In the Wake Up Washtenaw White Paper, I proposed locating the station at the place where Amtrak crosses under the Ann Arbor Railroad. Though I still feel that site has a number of advantages, I admit that the proposed location - at least for now - is better for the following reason...
The University of Michigan Medical Center is the largest and fastest-growing employer in Washtenaw County. It really makes sense to have a station within easy walking distance of its central facility - and the proposed location certainly is. Any other location would require the use of multiple buses to move employees to and from the station. Buses are good, but walking is better!
The proposed location is also on the most likely route for the "North-South Connector" - the heavy-duty transportation line being studied to connect Ann Arbor's north side with the University of Michigan's central campus and downtown Ann Arbor. It's a no-brainer to locate the regional and (possibly) commuter station on a heavy-duty transit corridor.
It's interesting to note that the proposed station has had its location removed from the name. It's no longer being called the "Fuller Road Station" - simply the "New Ann Arbor Station". Is this in response to opposition to that specific location?
OK. Enough for now!